Logiciel Sheriff Gaming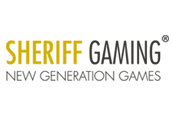 Si nous devions parier sur le succès d'un éditeur de jeux en ligne pour les casinos sur Internet, nous irions les yeux fermés placer notre pari sur Sheriff Gaming. C'est une société jeune sans doute, mais qui est en train de révolutionner le monde des casinos en ligne avec ses jeux innovants tout en 3D. Cette firme basée à Eindhoven aux Pays-Bas nous livre ses secrets à travers une analyse plus qu'intéressante.
Qualités du logiciel
En réalité, Sheriff Gaming ne propose pas de logiciel à part entière. Cette société au développement inhabituel se concentre sur la conception de jeux. Cependant, elle possède tous les outils pour implanter ses jeux sur la plateforme du casino partenaire. C'est le cas du Casino Solera par exemple qui utilise la plateforme Rival dans laquelle il a implanté des jeux Sheriff Gaming.
En ce qui concerne les garanties prises par Sheriff Gaming, elles sont multiples. En effet, la société est régulée et licencié par la Commission de Contrôle des Jeux d'Argent Alderney, qui certifie et garantie un respect des standards internationaux. La société possède aussi l'accord des Autorités de Jeux d'Argent et de Loteries Maltaises, elle est donc en parfait accord avec le marché européen.
Enfin, Sheriff Gaming adhère à 100% avec le label de qualité « Jeu Responsable ». Elle fait d'ailleurs des dons, chaque année à GamCare, une association caritative qui lutte contre les problèmes de jeux au Royaume Uni.
Suite de jeux
Quand on parle des jeux Sheriff Gaming, on parle de quasi perfection. La société est spécialisée dans la conception de jeux en 3D pour les casinos en ligne, principalement des machines à sous. Les jeux sont à eux seuls une véritable expérience dans laquelle le joueur va se plonger avec passion. A chaque jeu correspond une histoire dont le déroulement est fluide, avec des personnages à chaque fois attachants. Les graphismes sont magnifiques et les animations n'ont rien à envier aux dernières productions cinématographiques. Les titres que Sheriff Gaming lance sont des toujours des succès, parmi eux, il y a « Fortune of the Pharaohs », « No Mercy », « The Amsterdam Masterplan » et bien d'autres encore. Quelques titres s'apprêtent à sortir sur le marché, et font déjà parler d'eux.
De plus, Sheriff Gaming a voulu s'essayer à la conception de jeux de table tels que la roulette, le poker ou encore le blackjack, tout en 3D. Les jeux sont une réussite et nous devrions bientôt les voir fleurir dans les casinos en ligne.
Enfin, les cartes à gratter et deux jeux Kéno ont vu le jour il y a très peu de temps. Encore une fois le succès est au rendez vous. Le rendu de ces jeux est une merveille. Avec Sheriff Gaming, il est clair qu'une autre étape dans le monde du casino en ligne a été franchie.
A noter que les jeux sont tous disponibles dans 20 langues différentes et que d'autres langues peuvent être préparées sur demande. Si vous vouliez les essayer, il y a une démo pour chaque jeu sur le site Sheriff Gaming.
Richesse des bonus
En implantant les jeux Sheriff Gaming sur leur plateforme, les casinos peuvent s'attendre à un support de qualité de la part de l'éditeur qui propose même de créer et développer des bonus spéciaux pour les nouveaux joueurs et les déjà inscrits.
Les bonus sont généralement intéressants en termes de pourcentage et de conditions de réalisation. Il n'est donc pas rare de vous voir octroyer 100% de bonus sur vos premiers dépôts. De plus, un environnement VIP est disponible sur la plupart des casinos intégrant les jeux Sheriff Gaming, avec des offres allant de 10% à 15% sur tous vos dépôts.
Vous souhaitez en savoir plus sur les coulisses des jeux de casinos en ligne ?
Découvrez les fournisseurs de jeux de génie qui se trouvent à l'origine de vos jeux préférés: